Starter Website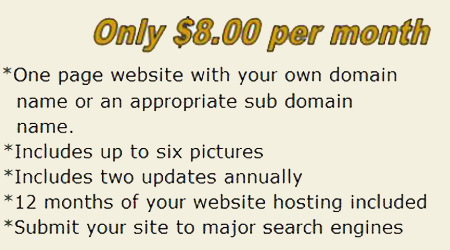 *One page website with your own domain name or an appropriate sub domain name.

*Includes up to six pictures

*Includes two updates annually

*12 months of your website hosting included

*Submit your site to major search engines

All you have to do is supply the material and we do the rest such as registering your domain, build your site, host it and maintain the site for only $8.00 per month. There is no contract to sign and you can cancel at any time.

To purchase a One Page Monthly Website, you will need to have a PayPal account. The monthly payments will be automatically deducted from your account. If the balance in your PayPal account is not enough to cover the monthly charge, PayPal will debit your bank account or credit card, whichever is your default spending source. This is an excellent way to determine if a website is for you. You can cancel at any time or upgrade to a larger site.

To get started, just click on the Subscribe button below. We will then register you a domain according to your wishes and after the first month, you will only pay $8.00 per month through a PayPal account. If you want more information, just email us at The Bryan Group.