Deluxe Website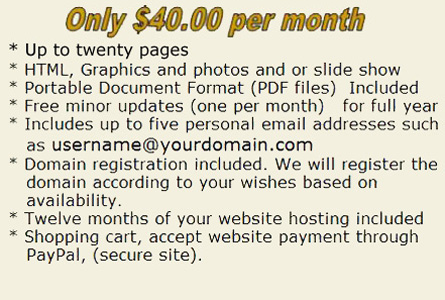 * Up to sixteen Pages
* HTML and Graphics
* Portable Document Format (PDF files) Included
* Related JPG Images
* Free Minor Updates (two per month) for full year
* Includes up to 8 Personal Email Addresses such as username@yourdomain.com
* Domain registration included. We will register the domain according to your wishes based on availability.
* 12 Months of your Web Site hosting included * Shopping cart, accept website payments through PayPal (secured site)
* Free Blog - If interested, a blog created in Word Press will be inserted on your site in a separate sub-domain where you will have a username and password to write and publish information as often as you like. We would only install the program, but would not be able to offer training or support. Example
* Will install Mailing List program on your website giving you the ability to send newsletters to your customers.
* Submit your site to major search engines
This size site is for larger operations with different types of livestock. If you have need to have your website updated regularly, this may be the type of website you need.
To get started, just make a deposit of $50.00 by clicking on the link below and we will register a domain according to your wishes. We will deduct the $50.00 deposit and bill you for the remaining amount of $430.00. If you want more information, just email us at The Bryan Group.
Deposit on Deluxe Website
Price: $50.00