Budget Website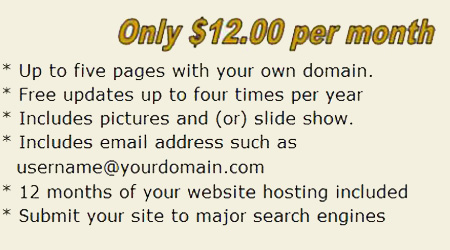 * Up to five pages with your own domain.
* Free updates up to four times per year
* Includes graphics and pictures
* Includes email address such as username@yourdomain.com
* 12 months of your website hosting included
* Submit your site to major search engines
If you want to pay monthly for the budget website, you will need to have a PayPal account. The monthly payments will be automatically deducted from your account. If the balance in your PayPal account is not enough to cover the monthly charge, PayPal will debit your bank account or credit card, whichever is your default spending source.
To get started, just click on the Subscribe button below. We will then register you a domain according to your wishes and after the first month, you will only pay $12.00 per month through a PayPal account. If you want more information, just email us at The Bryan Group.